Her career in real estate spans more than 50 years…
Her career in real estate spans more than 50 years…
December 12, 2016
Friends, colleagues laud Konter's work over decades
Realtor Harriet Konter sits in her midtown Savannah office last week. The native Savannahian has been in the real estate business since 1961. (Katie Nussbaum/Savannah Morning News)
Real estate agent Harriet Konter has been honored with a lot of 'firsts' in her life.
The 92-year-old Savannah native was the first female president of the Georgia Association of Realtors, the first woman to be inducted into the Georgia Association of Realtors Hall of Fame and the first woman to be named "Realtor of the Year" by the Savannah Area Realtors, but those who have worked alongside Konter, said she's always put their needs ahead of her own.
"She leads through example and by that I mean that she's always lives by the golden rule, she treats people the way she wants to be treated and she's always lead through honestly, trust and integrity and through that she's definitely the epitome of what it means to be a Realtor," said local agent Steven Fischer.
Konter and her late husband, Larry Konter, founded Konter Realty Co. in 1961 in a small two-room office in downtown Savannah. Six individual companies now operate under the Konter Co. umbrella, including Konter Quality Homes, which was founded by the Konter's son, Jerry Konter, in 1977. Together the companies have built and sold thousands of homes across the Low Country and created 17 communities, including Savannah Highlands and Woodland Trail in Richmond Hill.
After Larry Konter died in 1995, Fischer said, with all that the couple had already accomplished it would have been easy for Harriet Konter to retire, but he knew she'd continue building on what she and Larry had worked so hard for.
"It was always Larry and Harriet… She had already been No. 1, she had the biggest company, but there was never a doubt in my mind that she was going to continue the company and she did, which was very impressive," Fischer said.
"They were wonderful together, they were a team and she stayed."
"And I'm still here," Konter interjected, smiling from behind her desk in her midtown office, where a group of friends and family gathered last week to share stories and laughs about her time in the industry, which spans more than 50 years.
"I have wonderful friends and we've been out there a long time," Konter said.
Another one of those friends is Gale Hirsh. About 16 years ago Hirsh was using Konter's office phones for a fundraising effort when Konter persuaded her to obtain her real estate license.
"(Harriet) said, 'hang up the phone' and she closed the door," Hirsh laughed.
"… She's been the most wonderful teacher, leader and friend… She changed my life."
Hirsh is now the residential sales manager for Konter Realty, but her connection with the Konters began at a gas station while she was still living in New York, years before she met the couple.
"My husband's company was being relocated (to Savannah) and I was leaving everything and I was just down … I went to a gas station to fill up and the guy pumping gas, I don't even know who he was, asked me what was wrong," Hirsh said recalling a conversation she had with a gas station attendant.
After explaining that she was moving to Savannah and didn't know anyone here, the attendant offered some advice.
"You know what he said to me?" Hirsh asked the group.
"Call the Konters, they'll help you. And I still don't know who that guy (at the gas station) was."
Lisa Neville's journey with Konter started in high school, and this year she celebrated her 41st year working as support staff with the company.
"I came after school, then went through college, went through a marriage, went through a baby and I'm still here," Neville said.
"They're special people."
One memory retired Realtor Bob Bennett will never forget is when his daughter, Robin Lance, was to be installed as the president of the Georgia Association of Realtors in 2013. Konter gave Bennett and his wife, Roberta, who was also a Realtor, the honor of installing Lance.
"She wanted Roberta and I to install our daughter and it was great and we'll always remember that," Bennett said.
"That was quite an honor for us."
Lance had previously asked Konter and three other past female presidents, whom she had formed a close relationship with, to install her, but Konter had other plans.
"Harriet accepted my invitation, but, without my knowing it, went to my parents and said she felt it would mean so much to me if they actually installed me," Lance explained.
"Harriet and the other three ladies were called on the stage to install me, however immediately turned the program over to my parents to do the honors. It was very touching and again brought to light that Harriet is a selfless contributor. It meant more to her to see my parents recognized as installing me than it did for herself."
Recently, Konter was honored by the Savannah Area Realtors for her service and dedication to the Savannah industry. With that honor came another first: Konter is the first woman to have her portrait displayed at the SAR boardroom on Hodgson Memorial Drive.
"I was overwhelmed," Konter said of the reception and presentation.
"My children didn't even tell me what was going on. … People just kept coming up to me from all over."
And Fischer said the large gathering was a testament to the impact Konter has made on so many and the respect that they have for her.
"Wherever she went she made an impact, sometimes because she didn't whisper, but she still made an impact," he laughed.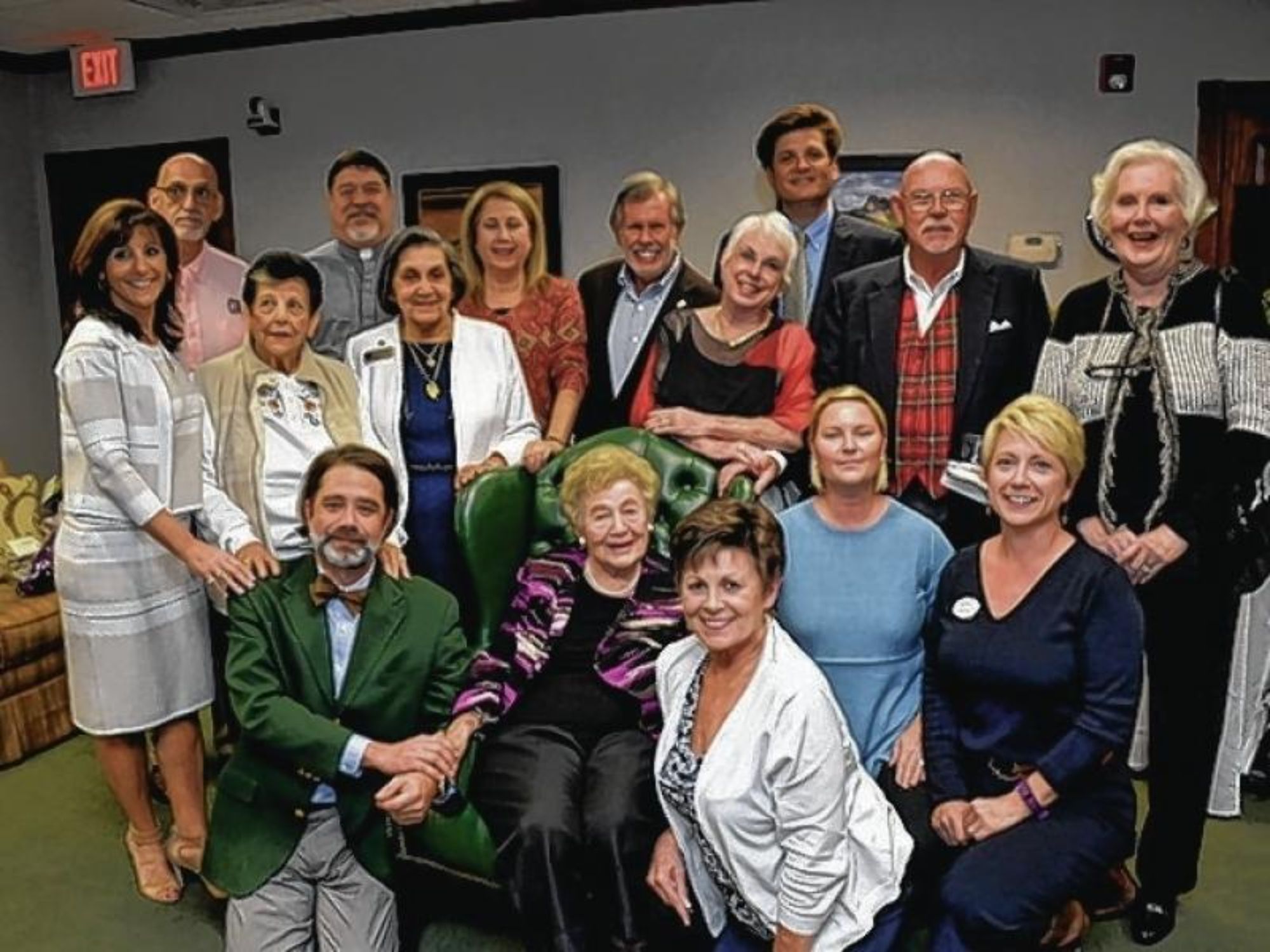 Friends and colleagues gather around Harriet Konter at a recent reception given by the Savannah Area Realtors to recognize Konter's contributions to the local real estate industry. (Bunny Ware/Spotted.Savannahnow.com)
"She's made an impact on every level and any every place and she's very well respected and that's what was shown the other night. … It really showed the respect she has across a broad base, real estate-related and not real estate-related."
Today, Konter still serves as president of Konter Homes, where staff said she keeps an eye on the office and keeps things "hopping."
Over the years Konter has served as president of the Armstrong State University Alumni Association, director of the Savannah Jewish Community Center, director of the National Association of Realtors and the list goes on. She's still involved in many organizations including the Women's Council of Realtors and the local, state and national Association of Realtors, but at the heart of it all for Konter is her friends, colleagues and family.
"I love everything about it," Konter said of her career.
"The people and what we did. Everybody liked to help each other."
Harriet Konter gives real estate agent Steven Fischer a kiss on the cheek at a recent reception given by the Savannah Area Realtors to recognize Konter's contributions to the local real estate industry. ( BunnyWare / spotted.savannahnow.com )
Previous Article
Tips for Downsizing
Next Article
Flooring Options